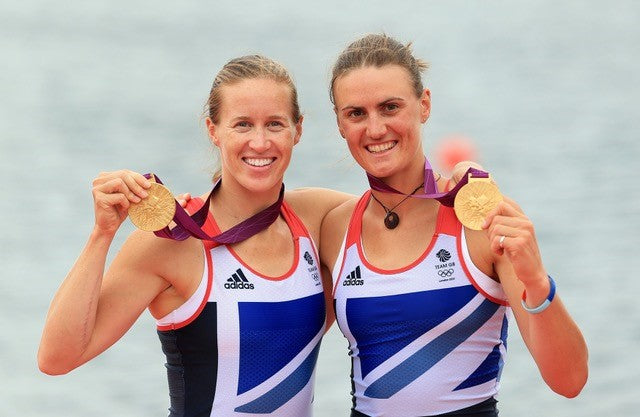 Podcast: Olympic Champion, Heather Stanning, on Reaching Maximum Potential
Double Olympic Champion and Royal Artillery Officer, Heather Stanning OBE, shares her experiences of being a soldier while training for the Olympics, winning two gold medals and why she returned to the military in this episode of the Fear Naught Podcast.
Major Heather Stanning OBE will go down in history as Great Britain's first gold medallist in the London 2012 Olympic Games. Her historic win ushered in a period of unprecedented success for the country, ultimately resulting in 29 gold medals over the course of the games – the third highest that year.  
Despite being widely known for her achievements at the 2012 and 2016 Olympic games, Heather has always seen herself as a soldier first, and for most of her sporting career balanced her training with serving in the British Armed Forces. 
Like what you read? Sign up for emails and get 10% off Fear Naught merch
"I joined the Army because I wanted to be in the Army, not because I wanted to be a full-time athlete."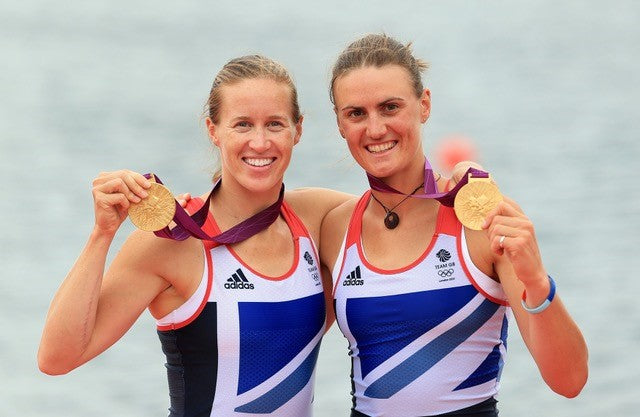 A career in the Army vs a career in professional sport
The Army came first for me. I was 15 or 16, thinking about what to do next, and a career in the Army was really appealing. As a 16-year-old girl, I was offered an Army scholarship and I've never looked back. With that scholarship also came a bursary for university, so I was encouraged to go to uni in order to grow up a bit and get some life skills before heading to Sandhurst. It was while I was at university that I discovered rowing.
The first step to becoming an Olympian
I didn't start rowing because I ever thought I'd go to the Olympics, it was very much just me at university wanting to meet people, get fit and have a good time. Much more on the social end of the spectrum. I was very sporty at school, so the idea of going to the Olympics was something I had always had as a kid, but how I got there, I don't know. 
Once I started rowing, I was very fortunate to be picked up by a talent coach who was based at the university. He showed me the opportunities I could have, but I couldn't quite see how I could reach the level required to be an Olympian. So, although I competed at a high level at university, I decided that when I finished university that was me done with rowing. I raced in the under 23 world championships in the summer of 2007 and three weeks later I was marching up the steps at Sandhurst with an ironing board under my arm, ready to start my year-long military training. 
Check out our latest podcast episodes
Overcoming Adversity with Mark Ormrod

Royal Marine, Mark Ormrod (MBE), was the UK's first triple amputee to survive the conflict in Afghanistan. In 2007, his life changed forever after he stood on an IED whilst serving his country. His determination not to let his injuries get the better of him, has led to him winning multiple medals at the Invictus Games.

Listen to his story 

Maximising Potential with Heather Stanning

A double Olympic rowing champion, who made history, with her partner Helen Glover, when they became the first British female rowers to win an Olympic title at London 2012 and successfully defended it at Rio 2016. Heather is a Battery Commander serving with 47 Regiment Royal Artillery.

Listen to her story

Shifting Mindset with Jordan Wylie

Former soldier, extreme adventurer, bestselling author and TV personality, Jordan Wylie, talks about his life in the military and finding his way after he left, his battle with mental health, how he shifted his mindset, and why now he feels his purpose in life is to educate, encourage and inspire young people.

Listen to his story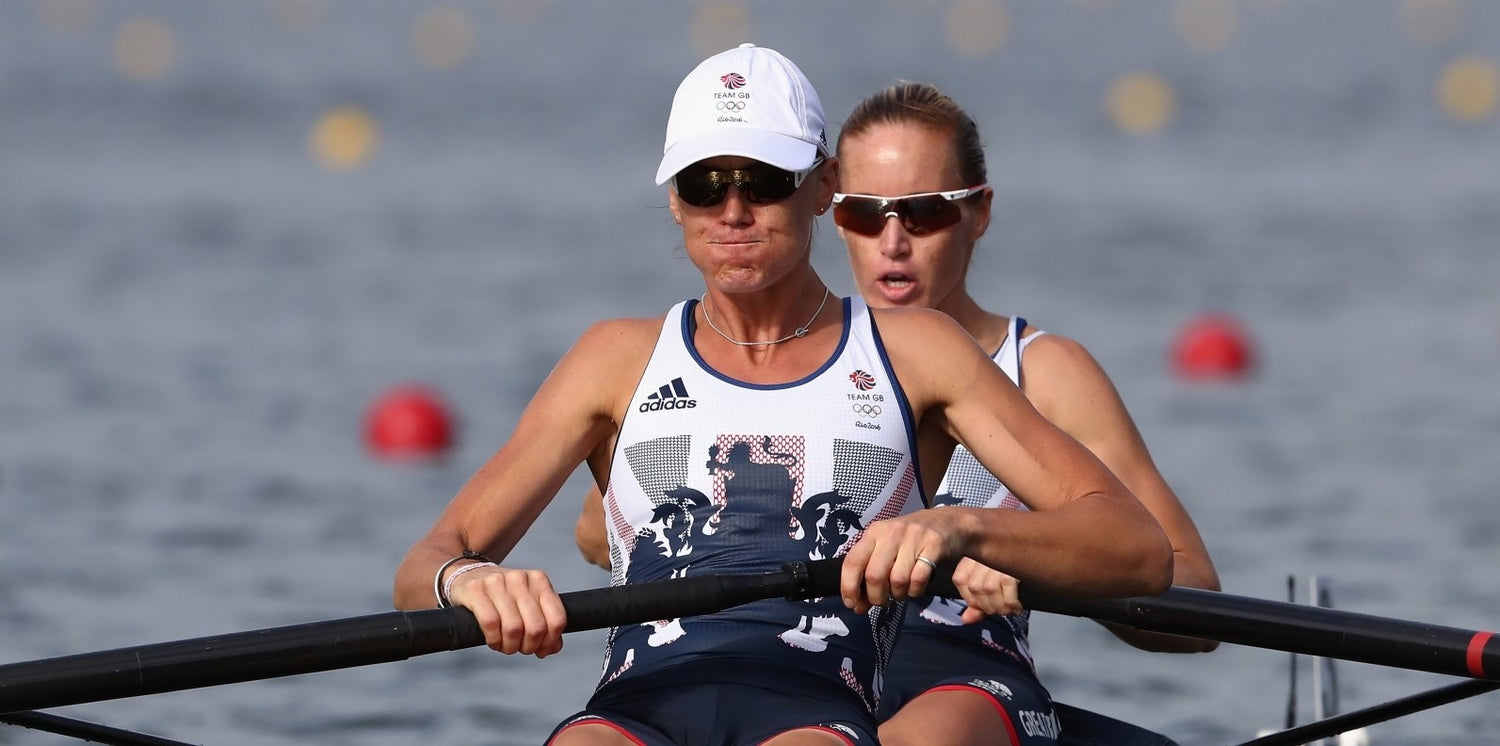 A second chance
The girl I raced with in the under 23 world championship was Olivia Whitlam, who went on to compete at the Beijing Olympics, and that really got me wondering if I closed the door on rowing too soon.
After a few long conversations with friends, I went back to my university coach, Paul Stannard (now the chief coach for the men's British Rowing Olympic team) who was just brilliant. He let me explore my career in the Army but was always there for me whenever I came back – even wrote a training programme that I could do.
I was very lucky in that I had the support of both sides. The military were good about giving me time to go away and train and compete in competitions, and I had a rowing coach who was really understanding of my aspirations to have a military career. It wasn't always straightforward, but it was absolutely worth it.
Joining the Olympic squad
In April 2010, myself and my rowing partner, Helen Glover, were invited to be part of the Olympic squad and train full time. We went to a couple of World Cups that summer and we didn't compete well, but we had a conversation after one race about how much we knew we could still improve. I think that's when I realised there was something there – not in me, necessarily, but in our partnership. As an individual, I couldn't work out how to be good enough, but with Helen there was this sense of something really exciting.
Juggling life as a soldier and an Olympian
There were occasions where I did miss out on some stuff, but I had a really good peer group who totally got what I was doing and why I was doing it. I made a real effort to be involved in as many military events and exercises as I could because I still had a career as a Junior Officer that I wanted to develop. I remember once spending six weeks in Canada on an exercise then coming back only to race at the European Championships a few weeks later. I didn't just skip stuff because I was training, otherwise I was never going to develop. I had fantastic peers who would help me do that by taking on extra duties, and hopefully I could repay them by making the Olympics.
Reconnecting with friends
I was trying to balance work, training and having a social life, but after that moment there was a period of about eighteen months where my life was literally working, training and nothing else. It continued that way until I made the national team – at that point knew I had to make some sort of switch. I absolutely had to work hard, but I also had to enjoy it. I felt isolated, I suppose, and knew I didn't want to go on this journey alone. I needed to re-engage with friends and start socialising again, even if it was just seeing people for a coffee.
The impact of military life on sporting achievement
Something the military taught me was the value that everyone brings to a team. I remember thinking if I was strong and fit, I could get through Sandhurst, but it's not just about that. Despite being strong, there were things I wasn't good at that other people were. That's where I learnt to play to the strengths of people within the team. That's a really, really valuable lesson I've learnt for the future and certainly something I learnt at Sandhurst. It's been very important for me, especially as an officer in the Army, leading a team. Everyone's got something different to offer. If you're all carbon copies, you're going to be a rubbish team. You can be the best in the world at what you do, but if you don't work with other people and exploit each other's strengths, there will always be someone who beats you.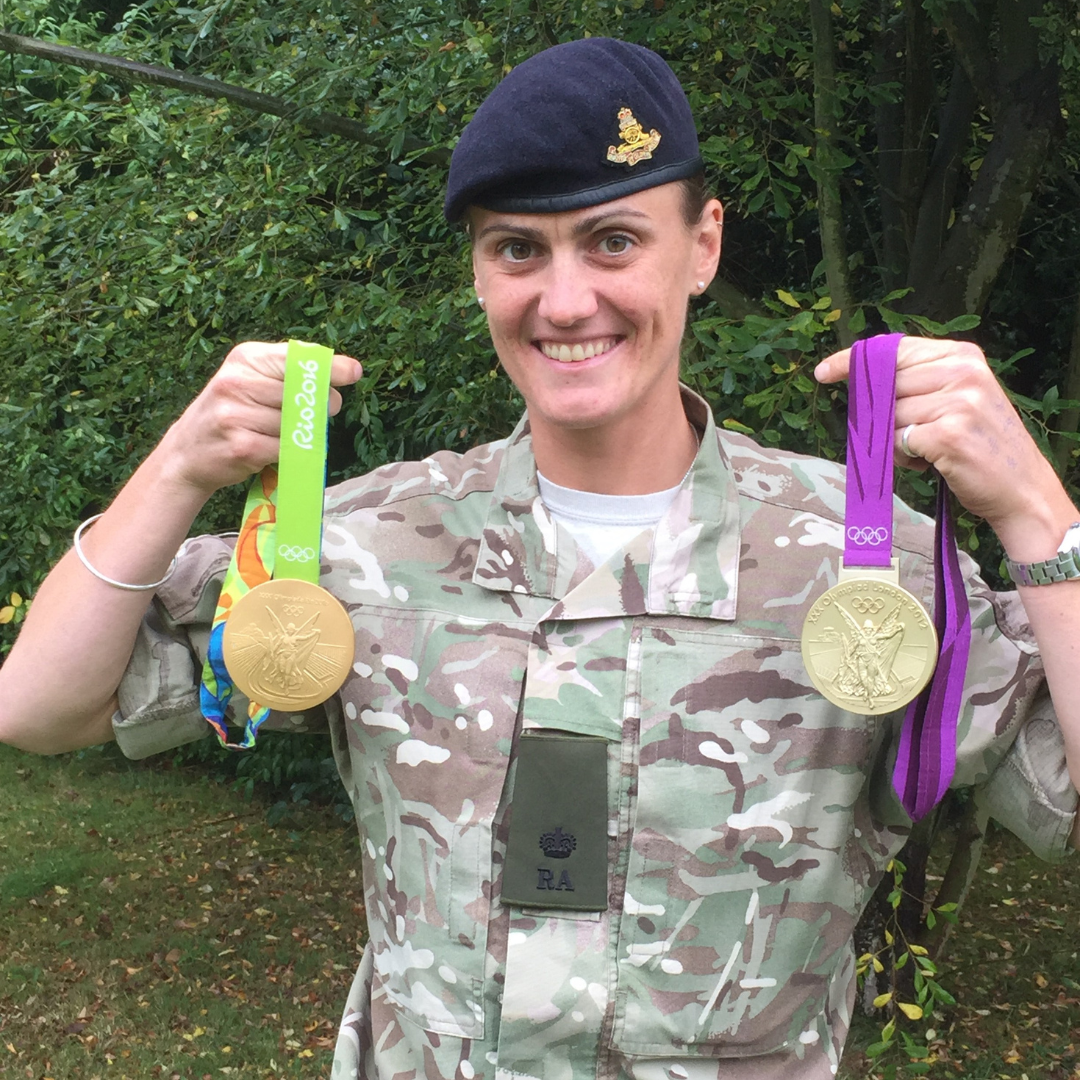 Winning gold at the 2012 Olympic Games
It's difficult to put into words. 2012 was such a special year and the whole nation really got behind it. As soon as the games started, there just seemed to be this real lift in people's attitudes – everyone was excited. And yes, the weather was great, which always helps.  
Anyone could have won that first gold depending on the schedule that day – Bradley Wiggins won only half an hour or so later after us! It could have been a very different story if our race had been delayed for whatever reason. 
Helen and I were still relatively new to the sport and that's what was so exciting about it. We won gold at the Olympics, but we knew we could still be so much better. It made us really hungry to carry on for another four years and go to Rio.  
Dress for high performance with Fear Naught
Returning to the military after winning Olympic gold
I went back to pick up my military career the following year. It was really nice and they genuinely shared the success with me, as there were a lot of people who helped me get there. I didn't do it on my own. I returned as a Battery Ops Officer, so a step on from troop commanding, but still within a sub-unit in a regiment. I was back working with soldiers I knew and who knew me, which I think was really important. 
Having the military to go back to straight away was really good for me. I joined the Army because I wanted to be in the Army, not because I wanted to be a full-time athlete. The world's a big place and there's far more important things going on than sport, unfortunately. So, for me, returning to work for a year was kind of a no-brainer, and at that time the Army was so busy abroad that it was quite strange for a young officer not to have been involved. For me, to have a credible military career felt important.  
Heather's advice to young people
Stop being afraid to try new things and ask questions. It would have been very easy for me to not push that rowing door open again after I joined the Army. You may think people are going to say no, but if you don't ask, you'll never know. Also, just try things – you don't know how good you'll be. I certainly didn't start rowing because I thought I was going to any Olympic Games.
Training for a second gold medal
It's rare to win a medal at your first games, let alone a gold medal, so Helen and I had a huge amount of pressure put on us for Rio. There was an expectation that we were going to win gold again, but nothing's a given. You could be in the best physical form of your life, but you've still got to go out and deliver on that day, during that race and get that result.  
Winning once is hard work, but it's much harder to retain that as, up until that point, you've been chasing someone else. As soon as you've won, everyone else is now chasing you. You've now got to push that standard and lead the way. We knew every time we went to race, people were watching us and they were trying to understand what we did and how we trained – what did they need to do to beat us? We had to keep proving we weren't a finished article. It was really exciting. Every year me and Helen got a chance to race and showcase what we'd been working on. I genuinely loved what I was doing every day as well. That's a very lucky position to be in, to be paid full time doing something you love so much. 
Retiring from professional rowing
I formally retired from rowing in November 2016. It wasn't through injury, illness, falling out of love with the sport or anything like that. I just didn't feel motivated in the same way I had after the London Olympics, and as soon as I realised that I wasn't feeling motivated, I knew it was time to call it day. I could have carried on, but I don't think I would have performed at the same level again. My drive and determination just wasn't where it had once been. Plus, I had a career in the Army waiting for me, so it seemed like the right time to call it a day. For me, choosing to retire on my own terms was massive. 
Heather's proudest achievement
I wouldn't say there's one thing, but a collection of experiences and opportunities. I suppose I'm proud that I was able to get so far doing something I enjoyed so much. If you enjoy what you do, you're going to perform well, even when you're facing challenges. That's something I always have in the back of my mind. As soon as I stop enjoying what I'm doing, it's time to move on or it's time to find another way of doing it.  
In hindsight, I've also been so lucky that so many things aligned at once. Lots of things happened by chance, but if they hadn't happened, I absolutely would not have achieved what I did. I will forever be grateful and continue to look for that enjoyment in everything I do. 
To listen to the full conversation, check out the Fear Naught podcast.
Fear Naught is owned and operated by Scotty's Little Soldiers and 100% of our profits allow us to support bereaved military children and young people around the UK through an effective combination of practical, emotional and educational support. Scotty's support young people who have experienced the death of a parent who served in the British Armed Forces. We offer a range of services designed to connect our members and create a community of bereaved military children built around mutual support.