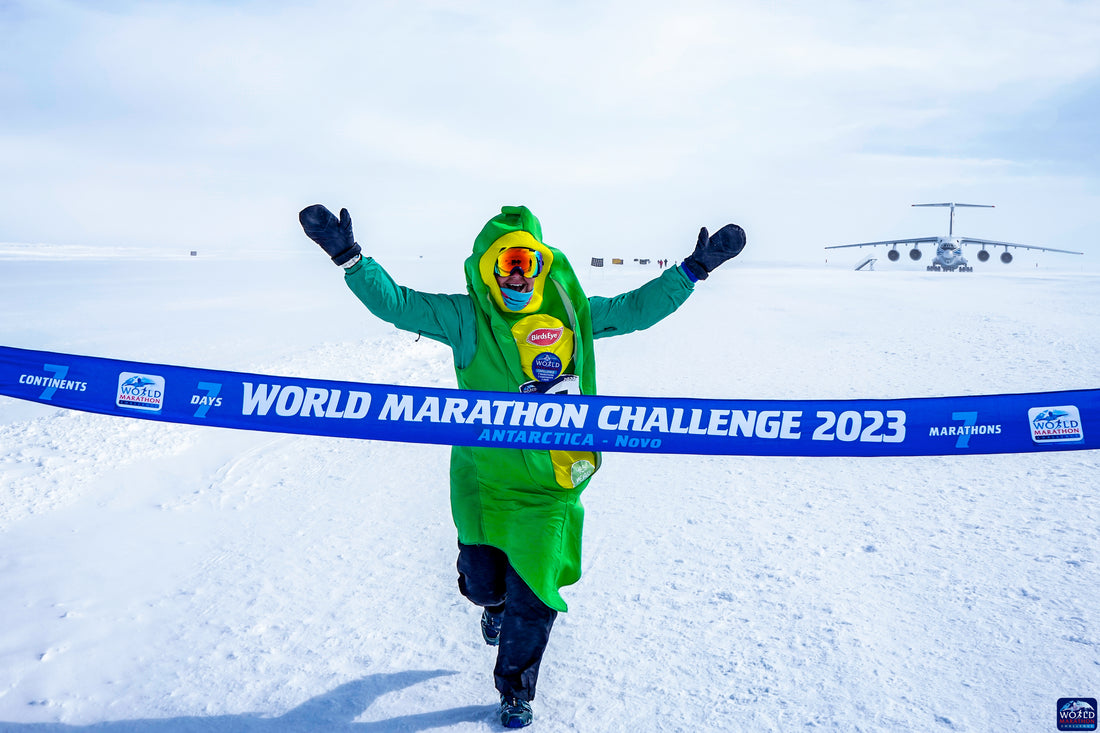 Podcast: Sally Orange on Marathons, Milestones and Mental Health
Adventure athlete, mental health campaigner, physiotherapist and Army Cadet Ambassador, former Major Sally Orange, has completed over 80 marathons all over the world. She recently became the first female veteran to complete the mammoth World Marathon Challenge – that's seven marathons in seven continents over seven days. 
Sally recently joined us on the Fear Naught podcast, offering her insight on becoming a marathon runner, the benefit of being last and how running can improve everyone's mental health. 
Like what you read? Sign up for emails and get 10% off Fear Naught merch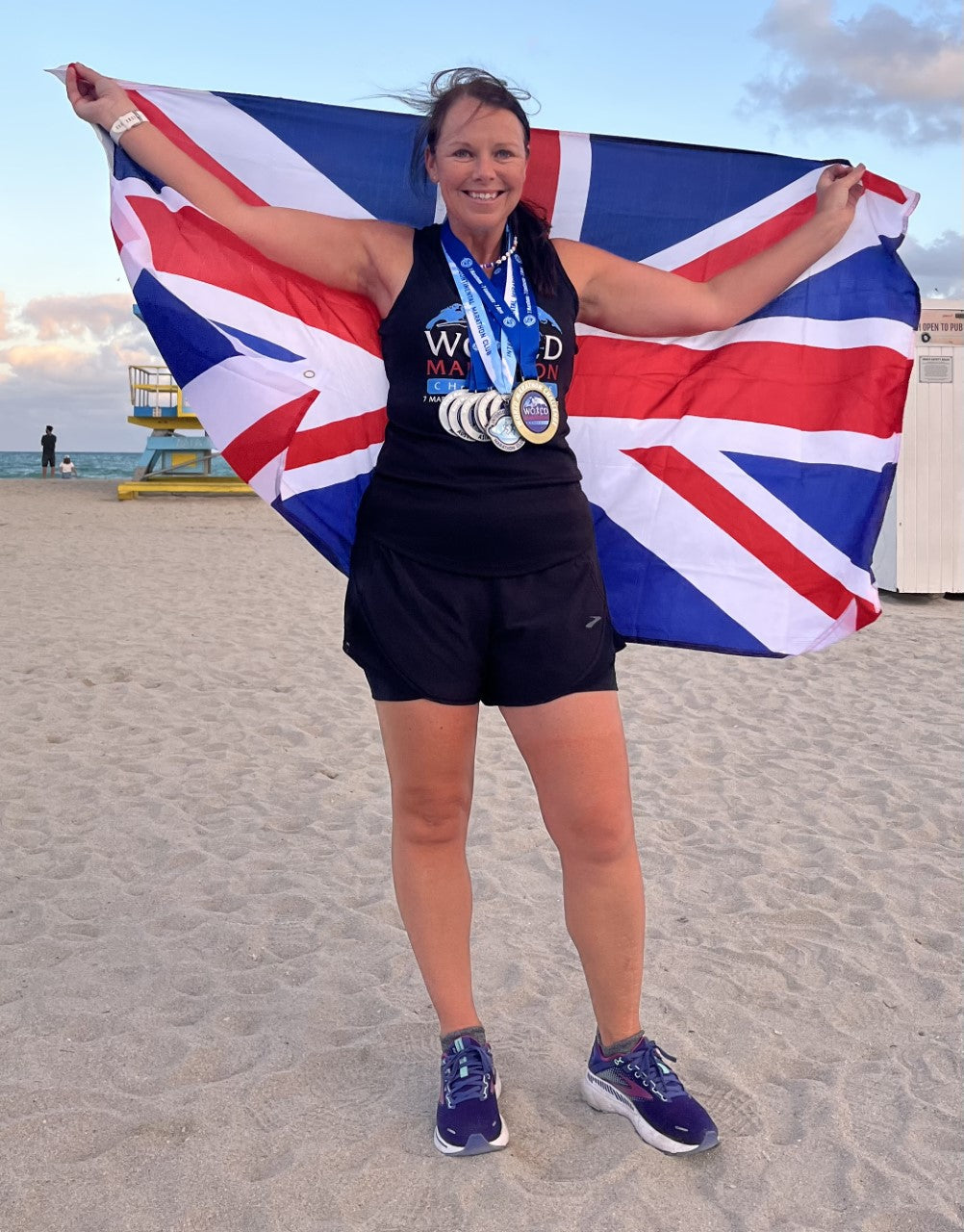 Finding inspiration 
It was always my dream to run a marathon. I remember watching the very first London Marathon and thinking 'I want to do that one day!'. Then someone I had never thought of as a runner completed the London marathon, and it gave me that push I needed to take it on myself.  
You never know who you might be motivating. That's something I've taken with me – I hope if anyone sees me doing what I do, it might give them that little bit of inspiration they need to give it a go and get running, just like I did. 
Listen to the podcast on Spotify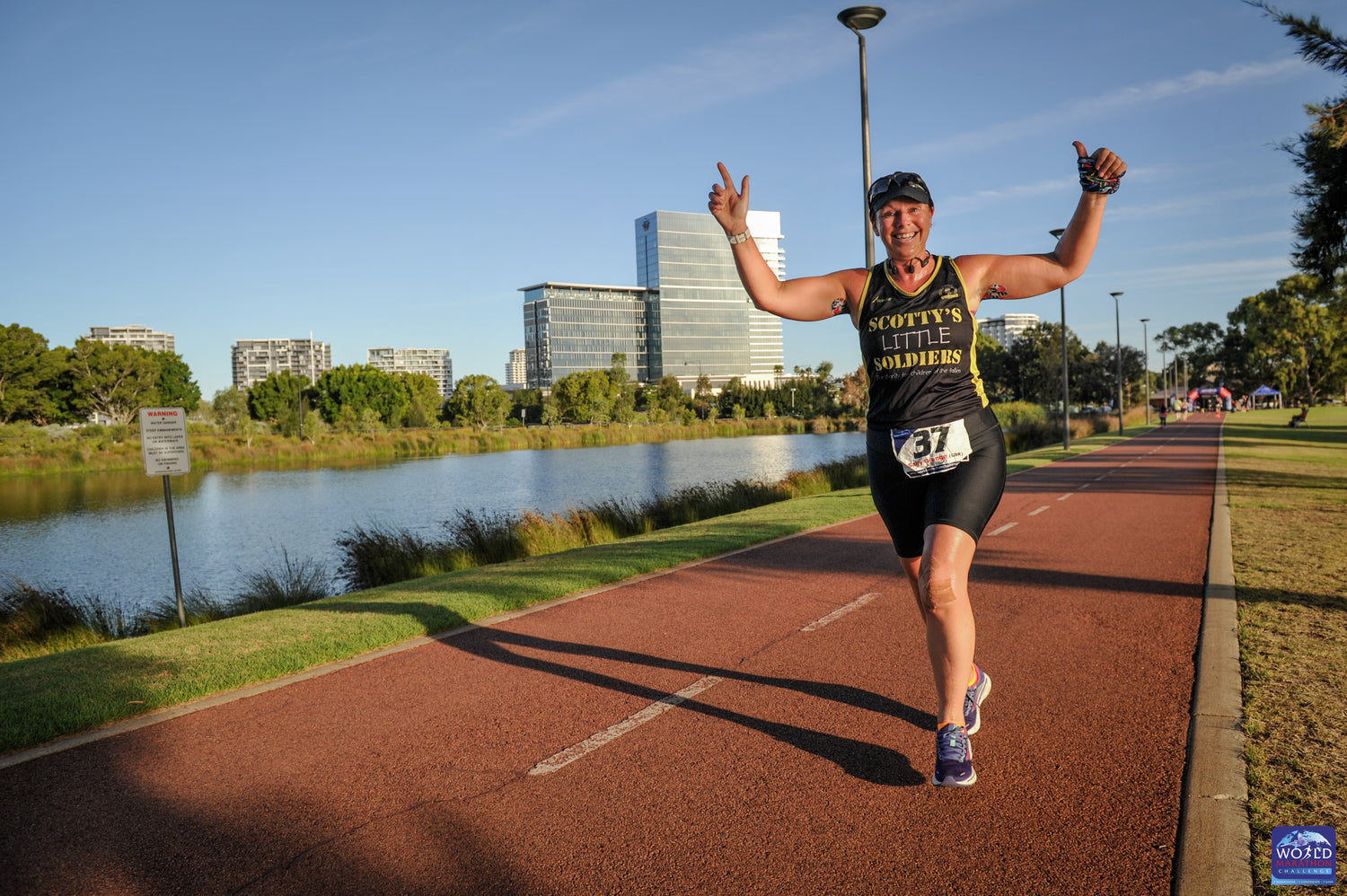 Breaking barriers
I'll never forget my first marathon and love reliving the experience with people who are taking on their first event. I remember the nerves beforehand, the support and people shouting your name from every angle of the course. There was support on all sides and crossing that finish line was just euphoric. 
I completed that first marathon dressed as a superhero, because I thought it would help raise more money for the charity I was supporting, and consequently also ended up with the Guinness World Record for the fastest marathon dressed as a superhero. That's where it all started and for the first time in my life I actually felt like a superhero – a feeling I'll never forget. 
Wear your Fear Naught with pride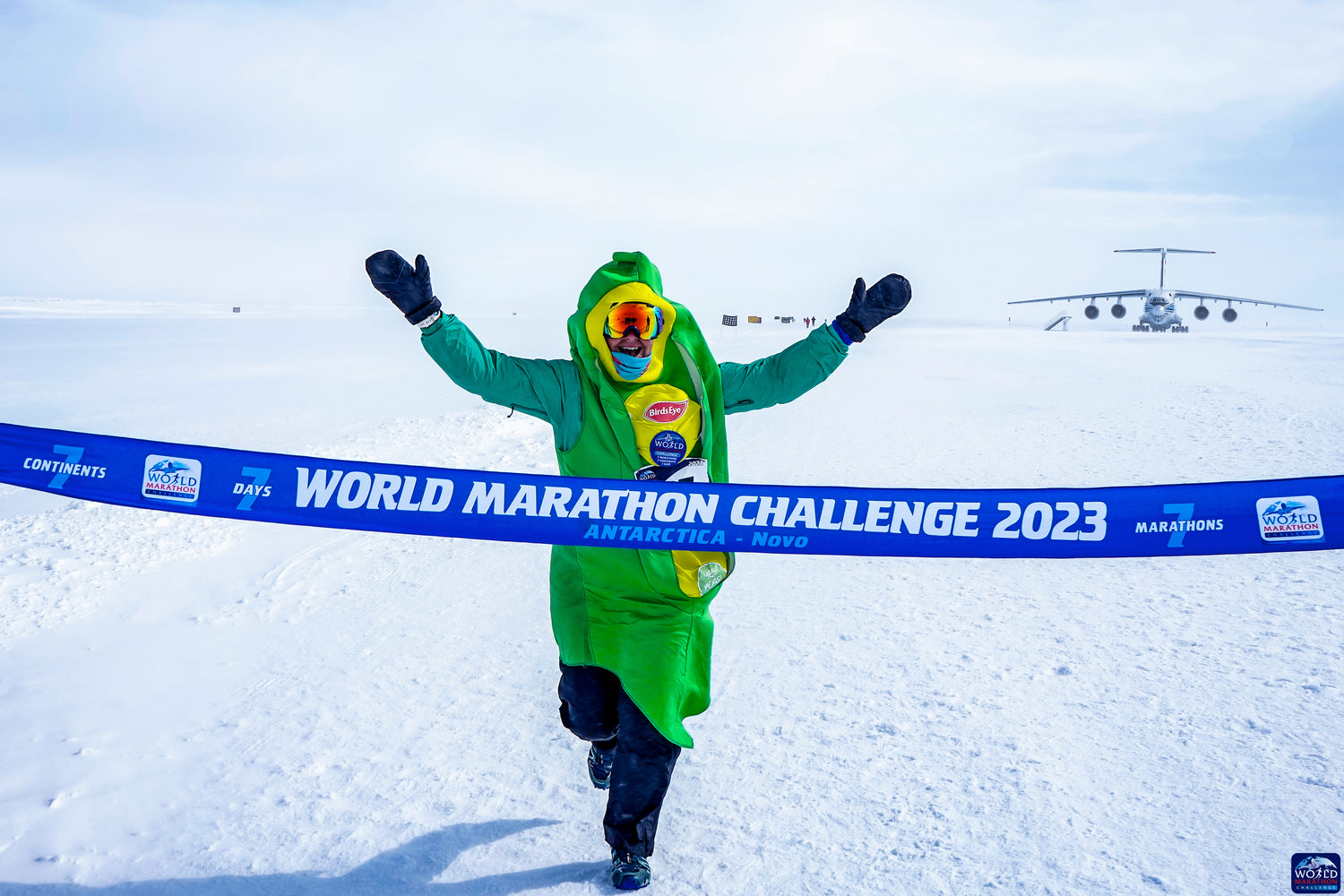 Smashing the stigma 
Dressing up for marathons always puts a smile of people's face, but there's a serious point to be made as well. Whenever I'm doing any big event, lots of people come up to me and ask why I'm dressed like a fruit, or whatever else I've chosen to be that race. I tell them I'm trying to break the stigma associated with poor mental health and it leads to some really valuable conversations about those things in their life they might not otherwise talk about. Additionally, marathons are really tough, and if I can chat to people and find out their story, it distracts me from the pain and difficulty I might be experiencing, especially later on in the event!
Listen to the podcast on Spotify
The benefit of being last
I think the fear of coming last stops a lot of people from doing some really great things in life. I was once competing in an iron distance triathlon challenge in Devon. Every lap of the 112-mile cycle, I stopped to put on a new costume. I knew I was in last place when it came to starting the marathon along the Southwest coast path, and it was getting dark and cold.  There were no markings along the route and no crowd cheering me on. In addition, there was a volunteer waiting for all the runners at the checkpoint. It seemed silly for people to stay out in the cold and dark for me, so I went back to the race HQ and told them I was going to finish the marathon distance, but by running up and down a length of nearby road instead – still in a costume, of course! That way, they could all go home, and I'd just finish the event on my own. Eventually, at one o'clock in the morning, I reached the finish line, but I hadn't followed the route and didn't feel like I'd properly done what I set out do. 
So, after getting some sleep, I went back to the actual marathon route and did it again! 
It was a stunning day, the scenery was absolutely incredible and the sky was totally blue. The woman who won the race the previous day joined me for a leg of the marathon. Not only that, but after hearing I'd gone out again someone doubled my sponsorship money, meaning I raised more for charity than I expected to. Not completing that original route could be perceived as failing, but as a result I raised double the money, had a great day, made a new friend and didn't put anyone else in danger. Not only that, but the organisation putting it on asked if I would come back next year as an ambassador for the event.  
If people don't do things because they're worried about coming last, they're depriving themselves of so many possibilities. I call them events, not races, because my main goal is just to get out there and enjoy it. Rather than going for a certain time, I turn it round and make sure I go for the time of my life!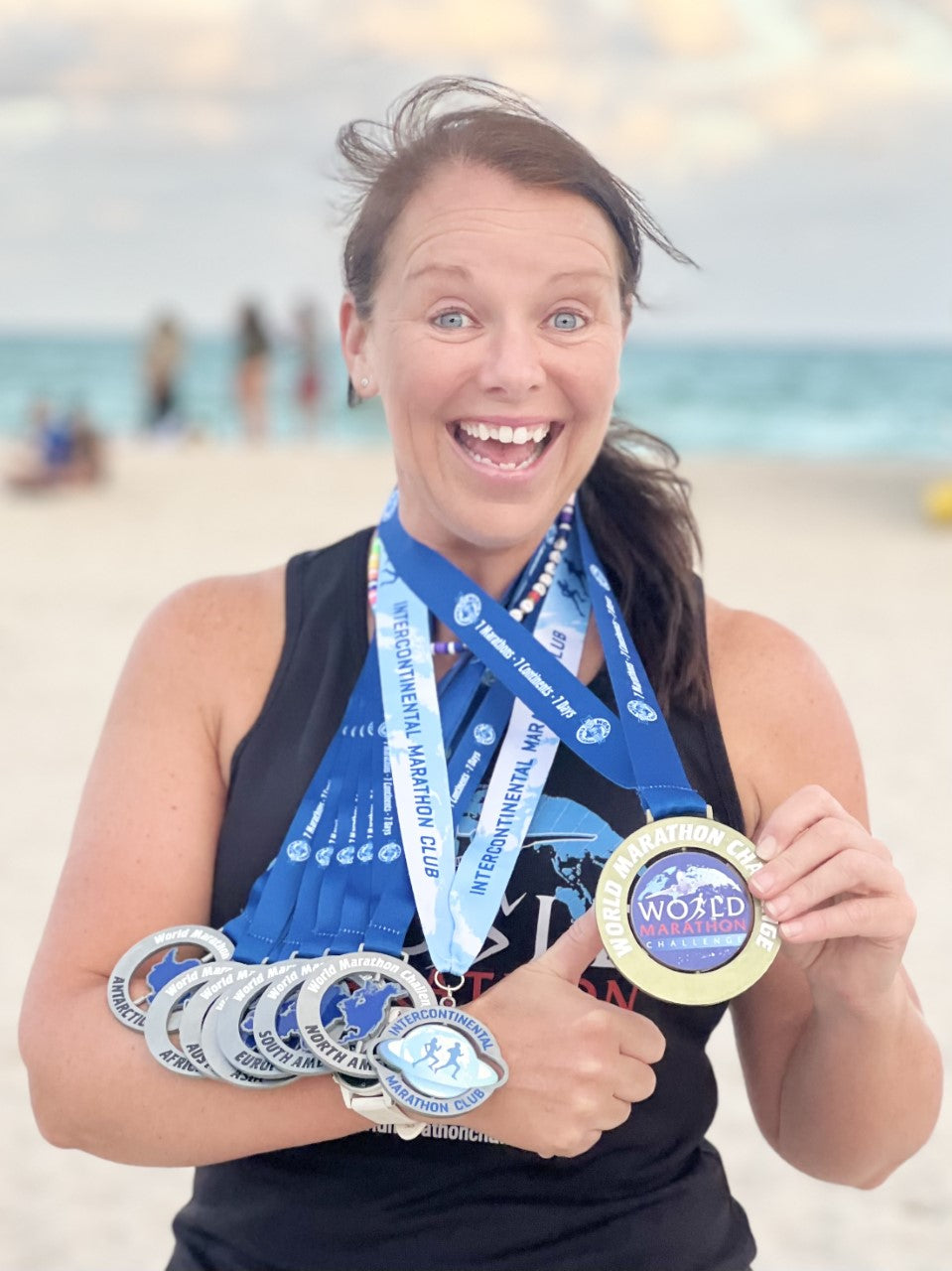 7 marathons, 7 continents, 7 days 
I actually went off-piste and didn't dress as fruit for every single one of the seven marathons. I started dressed as a pod of peas in Antarctica, because I knew I would be frozen, and for the last marathon in Miami I dressed as a slice of orange, as Florida is famous for its oranges. 
Surprisingly, the marathon I found the most difficult was the fifth one, in Madrid. I was really unwell and my stomach was very uncomfortable. It was extremely tough and I ended up walking most of it. What got me through was one of the podcasts I'd listened to during my training. The guest was a woman who had been paralysed, and she said she'd just like to go for a walk with her mum. It made me think that there at so many people who would love to be able to walk this, so I'm going to walk it, and I'm going to finish it. 
Listen to the podcast on Spotify
Check out our latest podcast episodes
Meet the Men's Army v Navy Rugby Teams 2023

The Fear Naught Podcast welcomed competitors from the Men's Army v Navy Rugby 2023 Teams ahead of the annual rugby match on May 13. They will play in front of 82,000 people at Twickenham in the largest amateur sporting event in the UK. Find out what it takes to join a military rugby team.

Listen now

Mark 'Billy' Billingham on Mastering Self-Motivation (The SAS Way)

SAS: Who Dares Wins' Chief Instructor and former soldier, Billy Billingham, knows danger better than any man alive. He shares the truth about what it's like to be part of an elite military unit, plus how the Channel 4 show compares to the gruelling reality of true SAS selection.

Listen to his story

Building a Tactical Athlete with Mike Chadwick

Former Paratrooper and Royal Army Physical Training Corps Instructor, Mike Chadwick, has spent his career optimising human performance. He joined the military at 16 and now provides elite physical training for UFC fighters and emergency services.

Listen to his story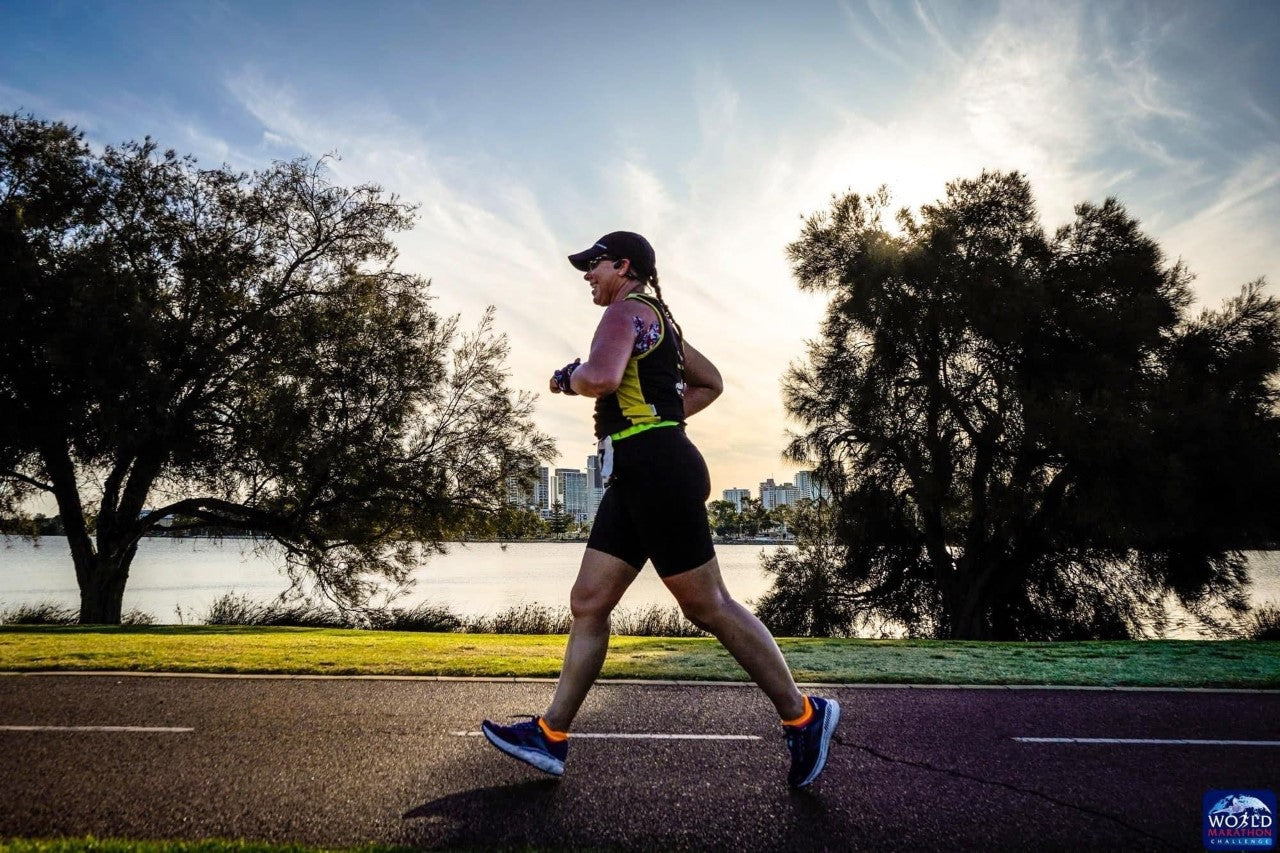 One step at a time
Through taking on different challenging endurance events, I've learnt that I can do more than I think I can, and also that even the toughest times don't last forever. Every day is a chance to tackle something in a different way, to take those small steps. For example, during the Madrid marathon, I used the lamp posts to keep me going. All I had in my mind was reaching the next lamp post, then the one that, then the one after that. By the end they felt like my friends. I even hugged a few of them!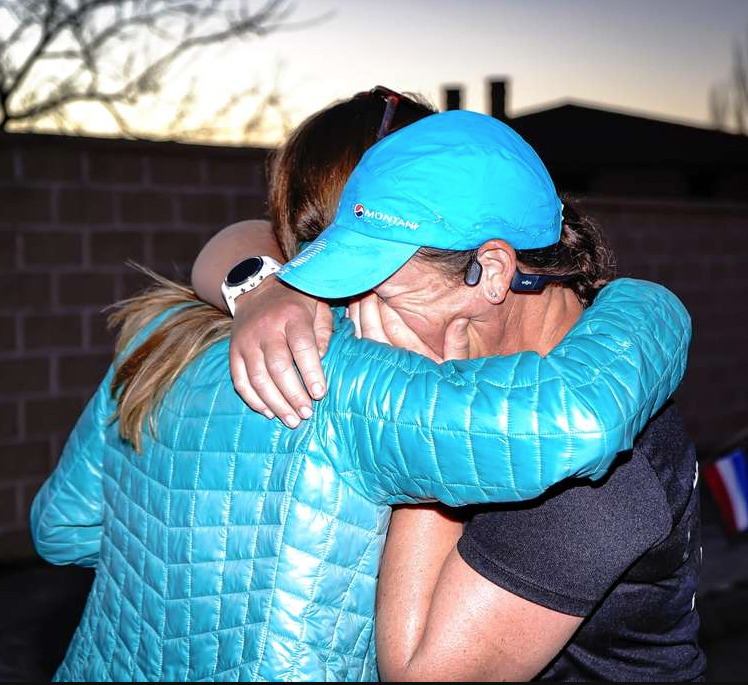 The mental health marathon 
Mental health is a marathon, and similar to running a marathon, it's best to break it down into smaller chunks to prevent it from becoming too overwhelming. At my worst, one of those chunks could be as simple as taking a shower. Sometimes, when you're feeling really bad, it's hard to think of things that make you feel good, which why I always suggest making a list on your phone of things that can cheer you up. Things that might take you from a two out of ten to a two and a half out of ten. For example, if someone's very task-oriented, it could be really good to go for a walk or do the washing up, clean the house, sort out those papers. It might only be small, but you've completed something, and it's taken you a step closer to getting better. You've reached another lamp post, so to speak. 
Personally, I also find that running helps a lot as well. If I've got a certain problem or something that's bothering me, I dedicate a run to working out that situation in my head. Exercise can be really therapeutic in that way. 
Listen to the podcast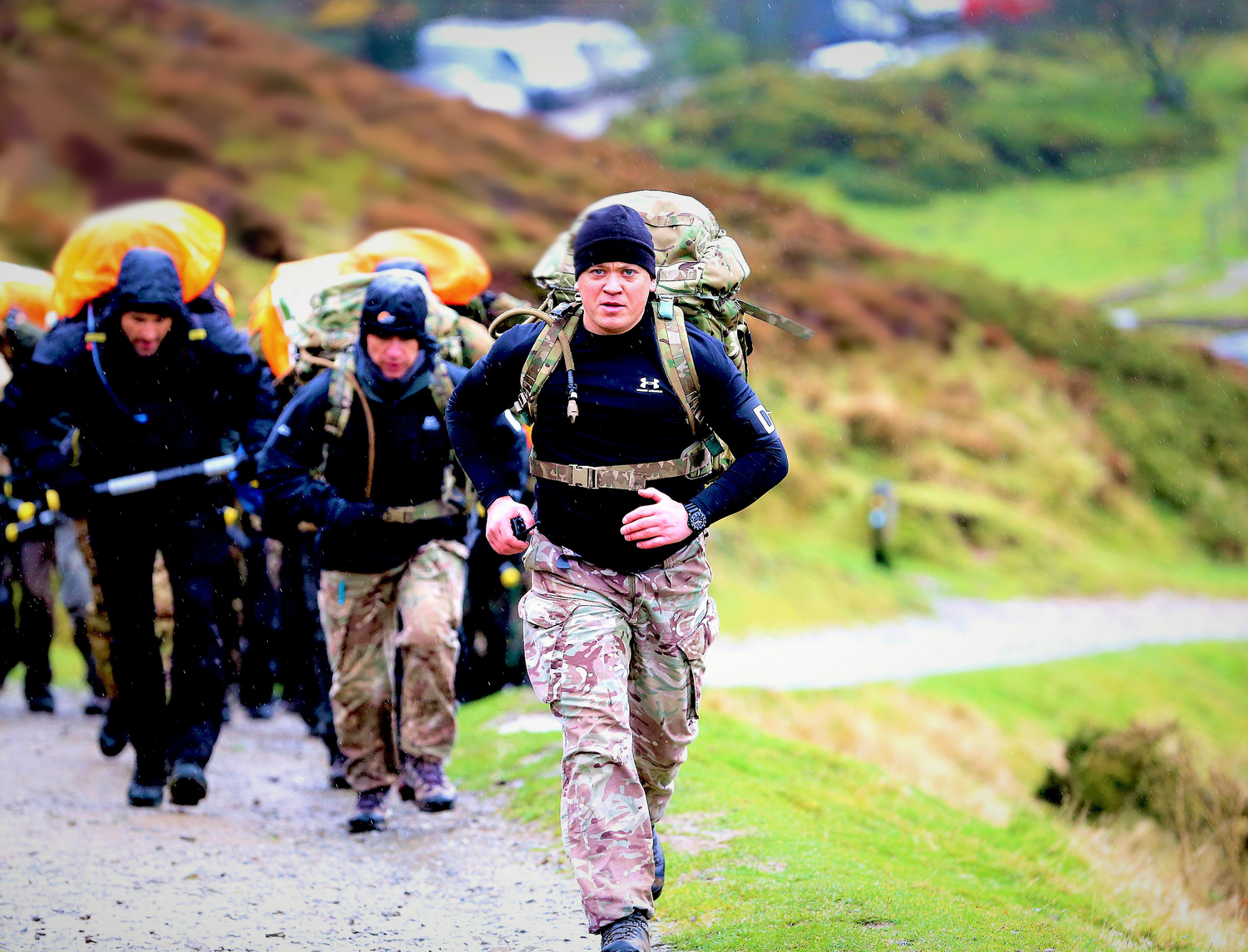 Take on The Fan Dance
The Fan Dance is a true test of the Fear Naught mindset, it will test your endurance as you battle against the distance, fatigue and lactic acid! Test your endurance with this 24km SAS Selection challenge to ascend Pen Y Fan. Join the Fear Naught Community in our Summer challenge!
JOIN THE FEAR NAUGHT TEAM
Fear Naught is owned and operated by Scotty's Little Soldiers. 100% of our profits allow us to support bereaved military children and young people around the UK through an effective combination of practical, emotional and educational support. Scotty's support young people who have experienced the death of a parent who served in the British Armed Forces. We offer a range of services designed to connect our members and create a community of bereaved military children built around mutual support.