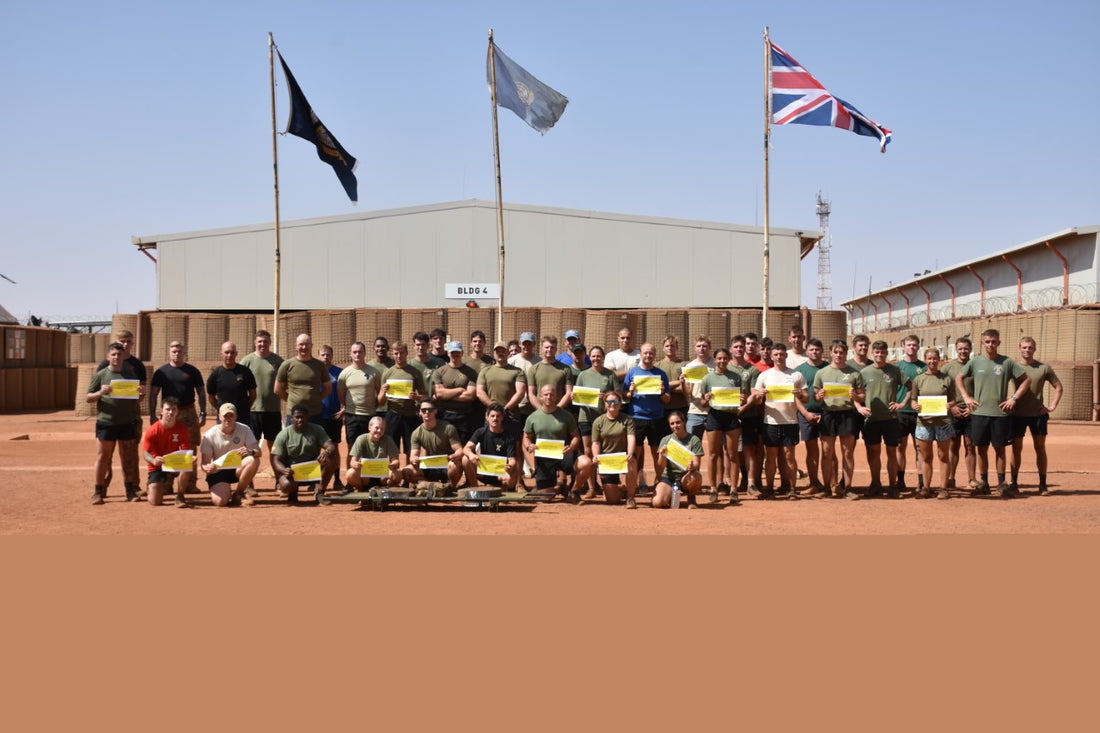 Soldier completes desert marathon carrying 50kg stretcher
Desert marathons are difficult. Carrying 50kg for the duration of one is almost impossible.But this didn't stop 31-year-old Sgt David Mathieson and his colleagues in the Royal Regiment of Scotland from doing it.
Take on the Sahara Desert Trek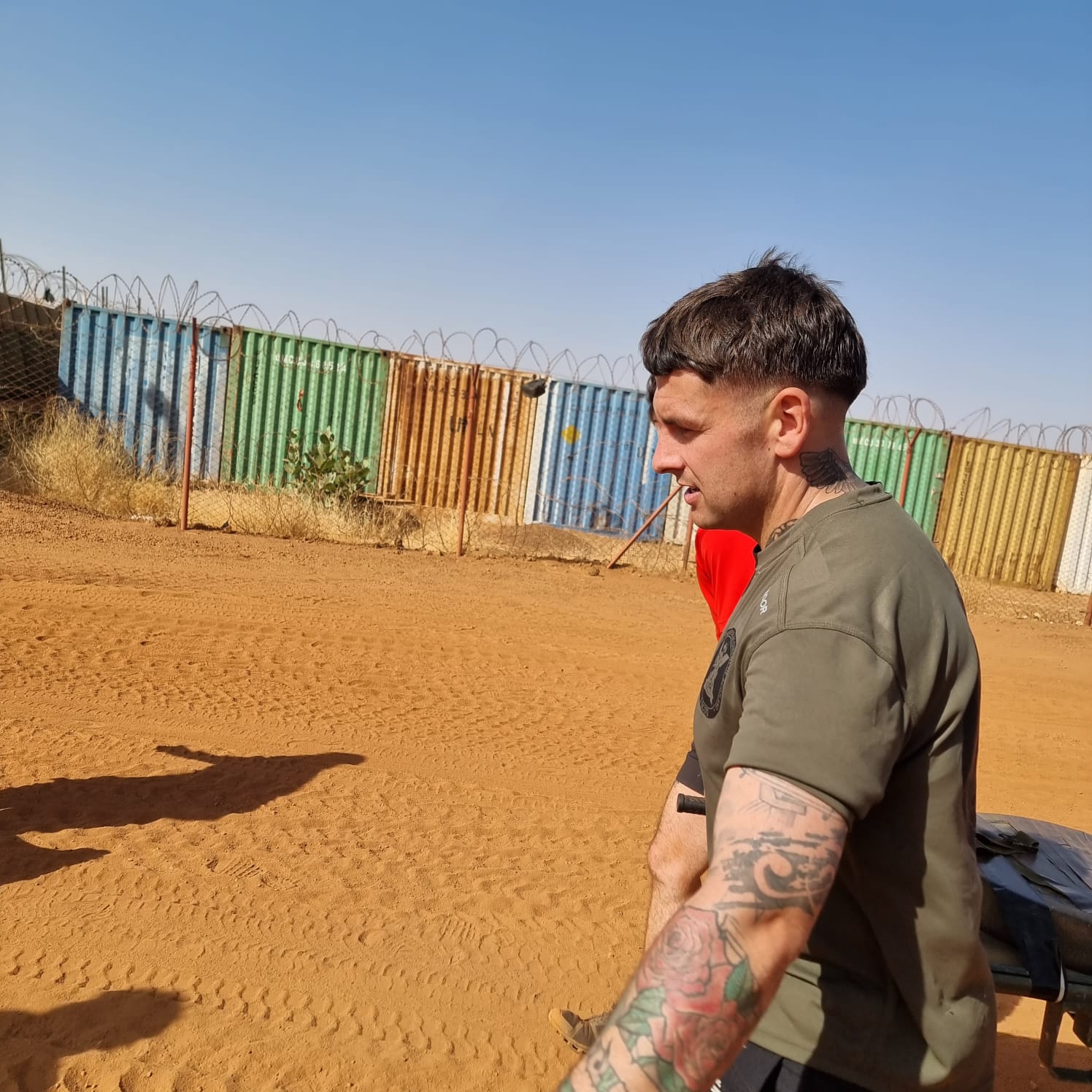 Why carry a 50kg stretcher?
As a serving soldier in the British Armed Forces, David is no stranger to high-pressure environments. He needs to be ready to jump into action at a moment's notice and prepare for every eventuality. This is where his idea to carry a 50kg stretcher over an entire marathon came from. 
"We chose to do it with a stretcher weighing 50kg to simulate us carrying a casualty, a soldier injured in battle. In the event of that situation ever occurring, we all want to be the best we can be. That was my thinking behind it." 
Read our Desert Survival Tips
Dealing with extreme heat
David and his colleagues are currently serving in Africa, where temperatures regularly reach up to 40 degrees. Carrying a 50kg stretcher the distance of a marathon is already an incredible test of physical endurance and mental toughness, but doing it under such intense heat conditions adds another layer to an already near-impossible challenge. 
When he came up with the idea, he hadn't expected so many people to join him. But, when word of his idea spread, the challenge exploded. 
"We brought lots of water, electrolyte juice, Haribo, nuts and stuff like that to keep us going. We made sure to stay well fuelled and trained for the challenge beforehand. We already do personal PT obviously, but we also built up the number of miles we completed during training and focussed on strengthening our legs from around mid-December until the challenge, which was in February. So around two months of preparation." 
"We wanted to test ourselves."
David's preparation paid off, as all 56 participants finished the mammoth challenge. And they did it in an astonishing five hours and three minutes. 
"It was really good. Everyone was super fit and we all completed it. Because so many people got involved, we ended up splitting into two group of 28 and taking turns to carry the stretcher. One group would carry it for about four kilometres, then the next would take over. We did that for the whole length of the marathon. 
"Carrying the stretcher definitely made a massive difference. People's arms were growing tired and their hands were getting sore towards the end. It made it much more challenging, but that was always the point. We wanted to test ourselves."
Training for an extreme challenge
An extreme challenge requires extreme training – something David and his colleagues are used to doing every day on tour. 
"Nothing is more important than preparation. Make sure that you've got the fuel to keep yourself going throughout the challenge. Think about how you're going to stay hydrated and don't take anything for granted.  
"In terms of training, it's important to give yourself time. Gradually build up your training, whether that running with progressive weigh on your back or going for longer times. It's also useful to try and emulate whatever it is you'll be doing on the day. In my case, I obviously did that by carrying lots of heavy weight." 
Adapting to an extreme climate
Normally, when carrying 50kg over 26 miles, the greatest threat would be muscular exhaustion. But for David and his team, it was the intense African heat conditions, which regularly reach up to 40 degrees. 
"Make sure you're acclimatised properly by spending progressively more time in the heat and always go through all the right procedures. If you're doing it in a work environment like we did, make sure you've made your plan, done the risk assessments and you're totally covered in case anyone goes down or something goes wrong. Along the same lines, always have measures in place to help someone who needs it. 
"To lessen the chance of something going wrong in the first place, it's good to have a training programme in place that helps people adjust to the heat. This is especially important if it's not something they've done before." 
Get kitted out in FN best sellers
Supporting bereaved military children
As a result of their efforts, David and his colleagues raised over £2500 for Scotty's Little Soldiers, the charity for bereaved military children. 
"I think Scotty's is a charity that everyone in the Forces can relate to, as we all either know someone who has died or we know someone who knows someone. I just wanted to help in whatever way I could. This is my fifth operational tour and the second charity event that I've organised. The plan was originally just for me to raise some money for Scotty's on my own, but when people got wind of it, I had loads of colleagues asking to get involved. It turned into a much bigger event than I ever expected! In the end, 56 of us got involved and everyone was really into it." 
Want your own African adventure?
Sign up for the Fear Naught Sahara Desert Trek
Fear Naught is owned and operated by Scotty's Little Soldiers. 100% of our profits allow us to support bereaved military children and young people around the UK through an effective combination of practical, emotional and educational support. Scotty's support young people who have experienced the death of a parent who served in the British Armed Forces. We offer a range of services designed to connect our members and create a community of bereaved military children built around mutual support.