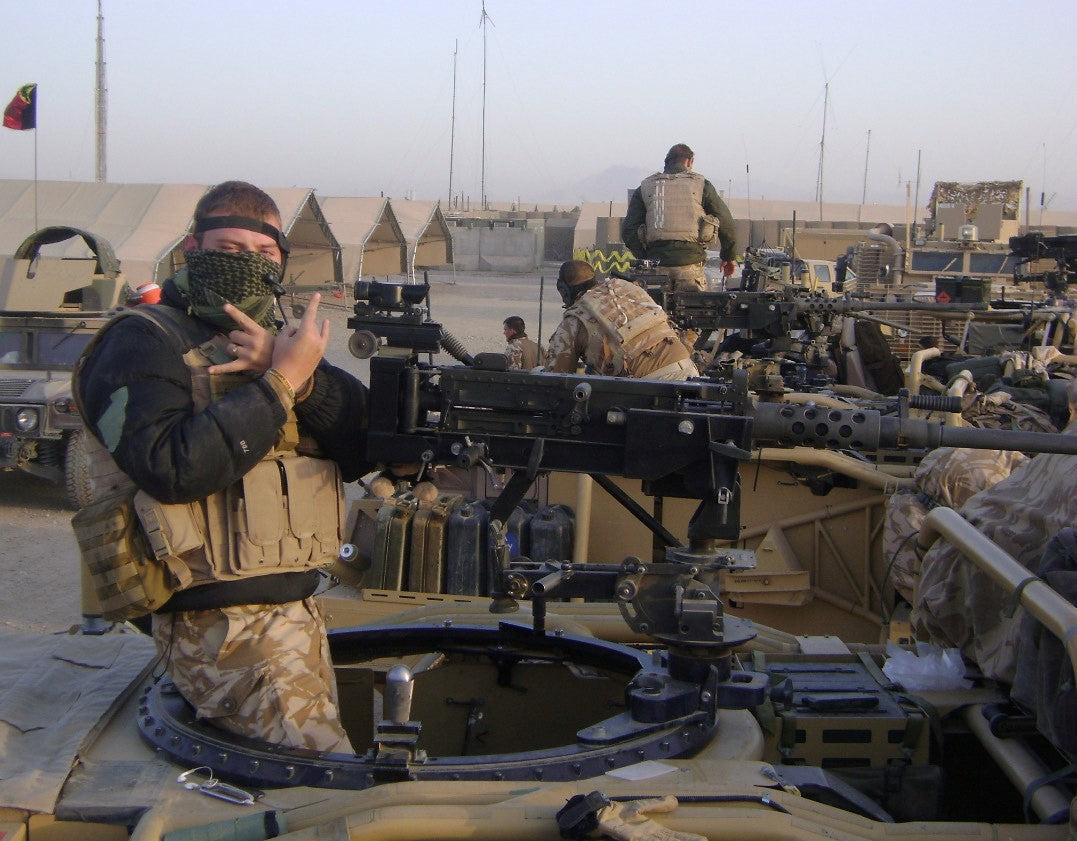 Why Are Soldiers Drawn to Extreme Charity Challenges?
For veterans and serving personnel, extreme charity challenges are a tried and tested way of pushing your physical and mental limits. Whether it's running a marathon, climbing a mountain or jumping out of a plane, extreme charity challenges are a chance to put your resilience to the ultimate test while making a positive impact in the world. Veterans and military personnel have a mindset unlike anyone else, and extreme charity challenges are a popular way to strengthen your mindset even further.
Like what you read? Sign up for emails and get 10% off Fear Naught merch
"You've got to be a bit mad to take on a challenge like this. All us squaddies are."
Veteran Danny Davies, Royal Engineers
How does the military change you mentally?
Get the military mindset:
Mark Billingham: Self-Motivation – The SAS Way

SAS: Who Dares Wins' Chief Instructor and former soldier, Billy Billingham, knows danger better than any man alive. Featuring on the Fear Naught Podcast, he shares the truth about what it's like to be part of an elite military unit, plus how the Channel 4 show compares to the gruelling reality of true SAS selection.

Listen now

Jason Birch: Training for an Elite Mindset

Ex-UK Special Forces and Physical Training Instructor, Jason Birch, has spent his life overcoming adversity and teaching others to do the same. Now a successful entrepreneur and founder of the S.F. Experience, he offers civilians a taste of what it's like to tackle UK Special Forces selection - including the infamous Fan Dance.

Listen now

Mark Ormrod: Overcoming Adversity

Royal Marine, Mark Ormrod (MBE), was the UK's first triple amputee to survive the conflict in Afghanistan. In 2007, his life changed forever after he stood on an IED whilst serving his country. His determination not to let his injuries get the better of him, has led to him winning multiple medals at the Invictus Games.

Listen now
Wear your Fear Naught with pride
Take on a Fear Naught Approved Challenge
The Fan Dance

Test your endurance with this 24km SAS selection challenge to ascend Pen Y Fan.

Find out more

Everest Base Camp

Push yourself to climb the highest peak in the world and stand 5,364m above sea level.

Find out more

Sahara Desert Trek

Take on a 5 day trek through the world's largest hot desert in this unforgiving challenge.

Find out more
How can I raise money for charity?
Are you a veteran or serving personnel interested in taking on an extreme charity challenge? Here are some tips on getting started: 
Choose a cause:
Pick a charity fighting for something you care about. Find a cause that resonates with you and support it. 
Find an event:
Once you've chosen a cause, look for an event that fits your interests and abilities. There are lots of extreme charity challenges to choose from, so consider what you'd like to take on and what you're physically capable of. Why not check out our Fear Naught approved challenges? 
Set a fundraising goal:
A fundraising goal can motivate you to get moving. Make sure your goal is realistic but challenging, and consider leveraging your personal and professional networks to meet it. 
Train and prepare:
Extreme charity challenges often require months of training and prep, so make sure to allow yourself enough time. If your challenge is especially physically demanding, consider consulting with a personal trainer or coach to develop an effective training plan. 
Spread the word:
Once you've committed to a challenge and set a fundraising goal, it's time to build awareness for your cause. Use social media, post in group chats, email potential funders and any other channels you can think of to promote your challenge and encourage people to donate. 
Fear Naught is owned and operated by Scotty's Little Soldiers. 100% of our profits allow us to support bereaved military children and young people around the UK through an effective combination of practical, emotional and educational support. Scotty's support young people who have experienced the death of a parent who served in the British Armed Forces. We offer a range of services designed to connect our members and create a community of bereaved military children built around mutual support.