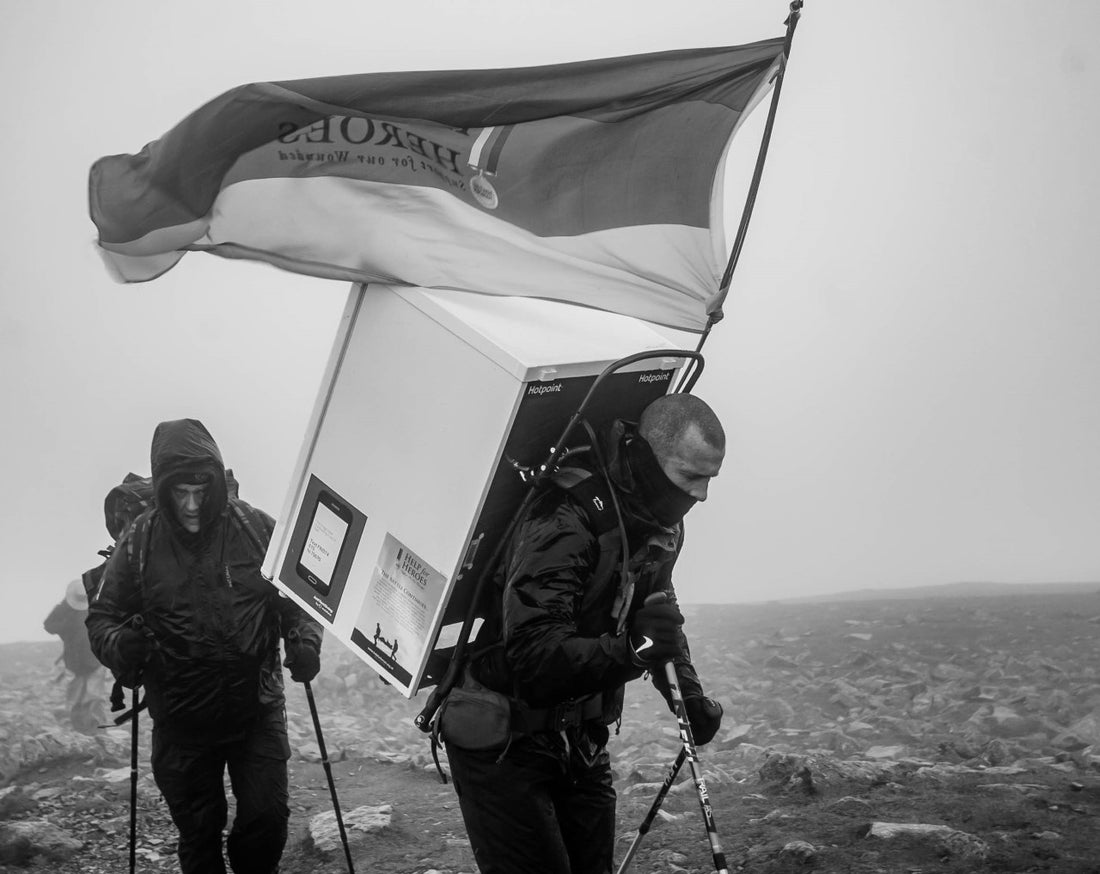 The Fridge Hiker: Why Do I Hike with a Fridge on My Back?
"It acts like a sail, swinging you from side to side. As soon as the wind changes, you've got to counteract it. If you don't, the fridge will take you down."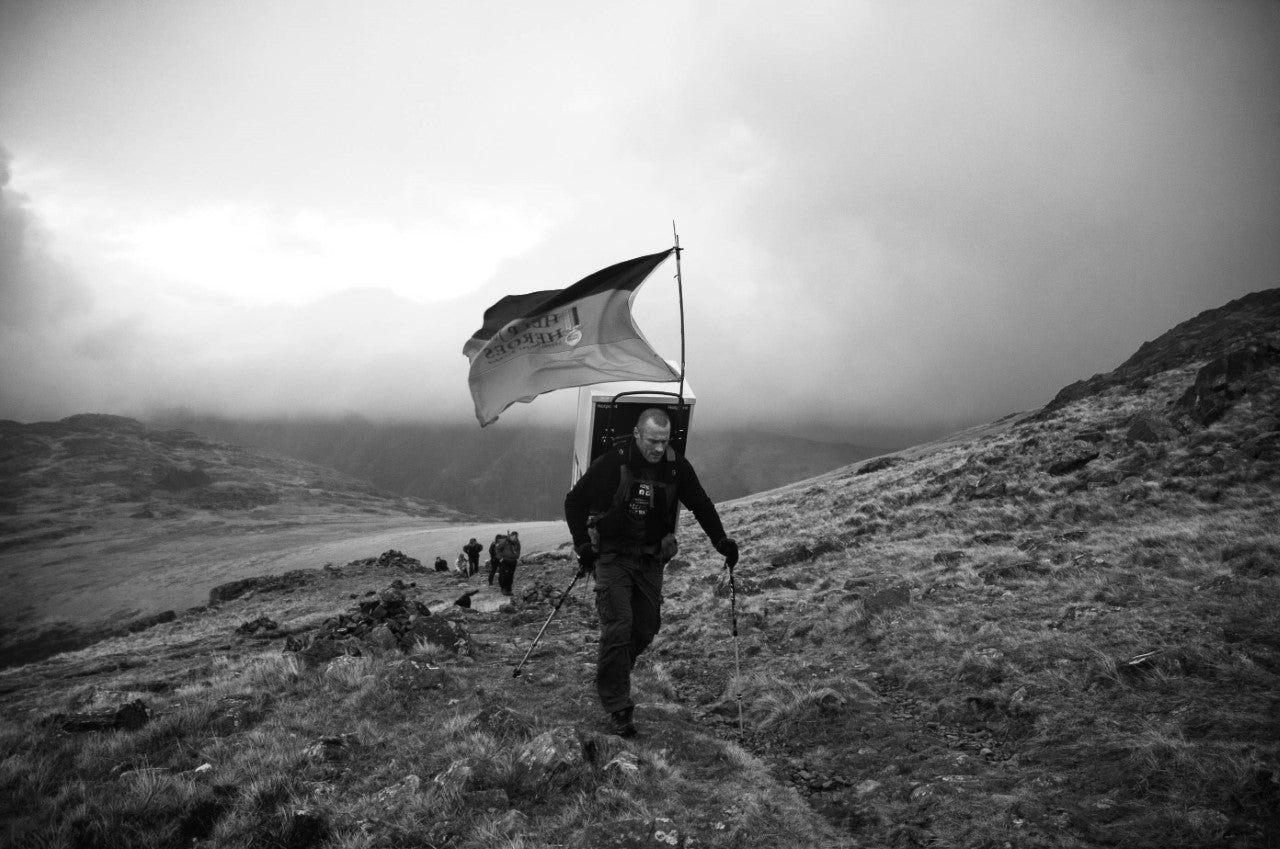 Six years ago, I decided to start hiking with a four-and-a-half-stone fridge on my back.
It's one of those mad ideas you have over a pint of beer on a summer afternoon, when the heat may or may not be getting to your head. The Invictus Games was on TV and I was watching a veteran compete who had lost limbs during combat. I was just in awe.
I felt inspired to somehow give something back, and after another beer or two started scribbling down some ideas and doing some research. I discovered that the weight of a soldier's equipment is roughly the same as a fridge, and often they're carrying it all day and all night, regardless of the weather. Rain, shine, heat, cold. Everything.  
The rest wrote itself.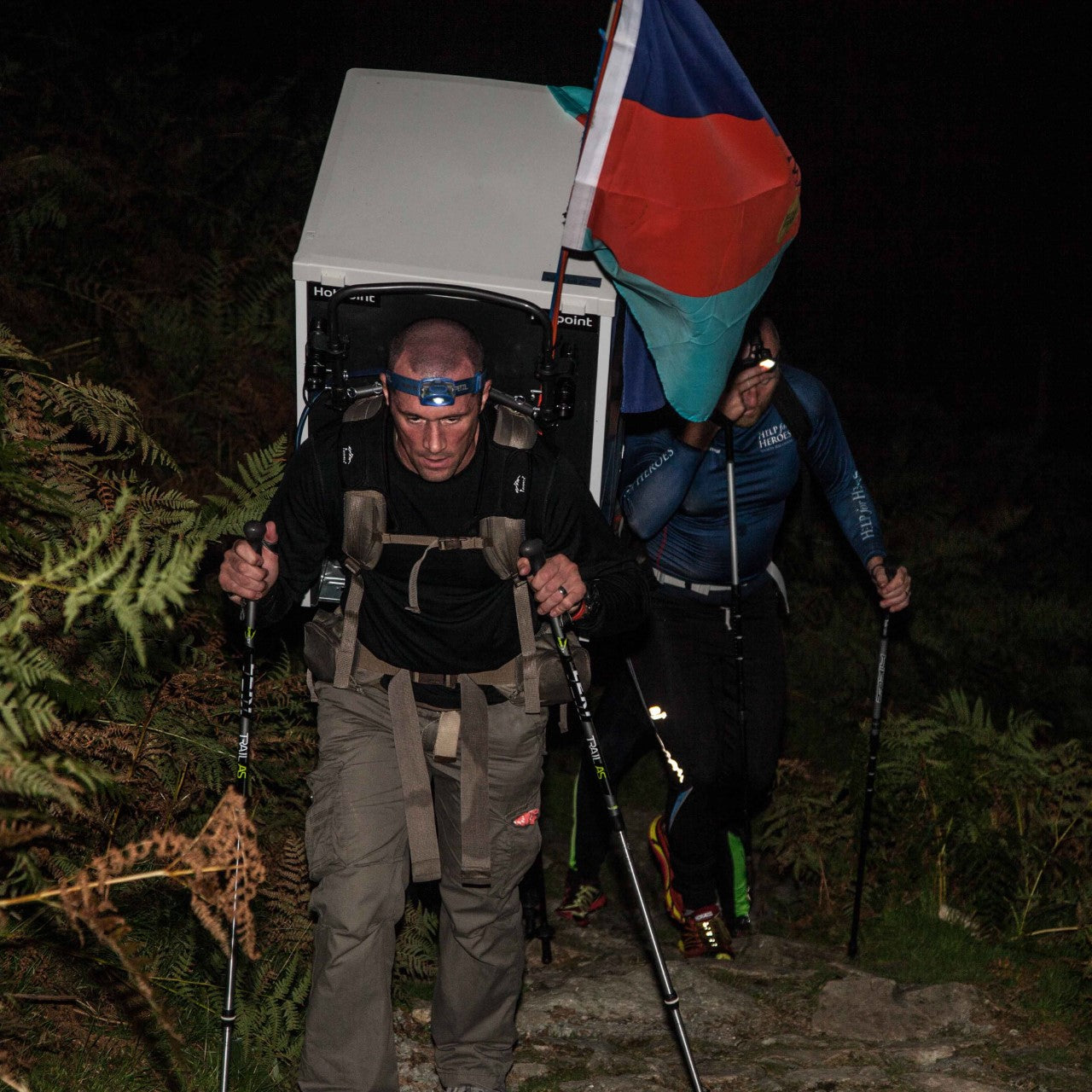 Normal hiking vs fridge hiking
On a normal hike, you'donly take a bottle of water, a pack lunch and a waterproof, but after walking for a few hours even that can feel heavy.
Now imagine that situation, but you're also giving a child a piggyback the whole time. That's what carrying a four-and-a-half stone metal box feels like. It can't really be compared to a rucksack; a rucksackis closer to your body, more compact, more streamlined.
When you're wearing a fridge, the furthest point is still two feet away from your back and the whole thing is very wide and cumbersome. It makes it difficult to move around, and if there's any wind it acts like a sail, swinging you from side to side.
As soon as the wind or terrain changes, you've got to counteract it and adjust your balance. If you don't, the fridge will take you down.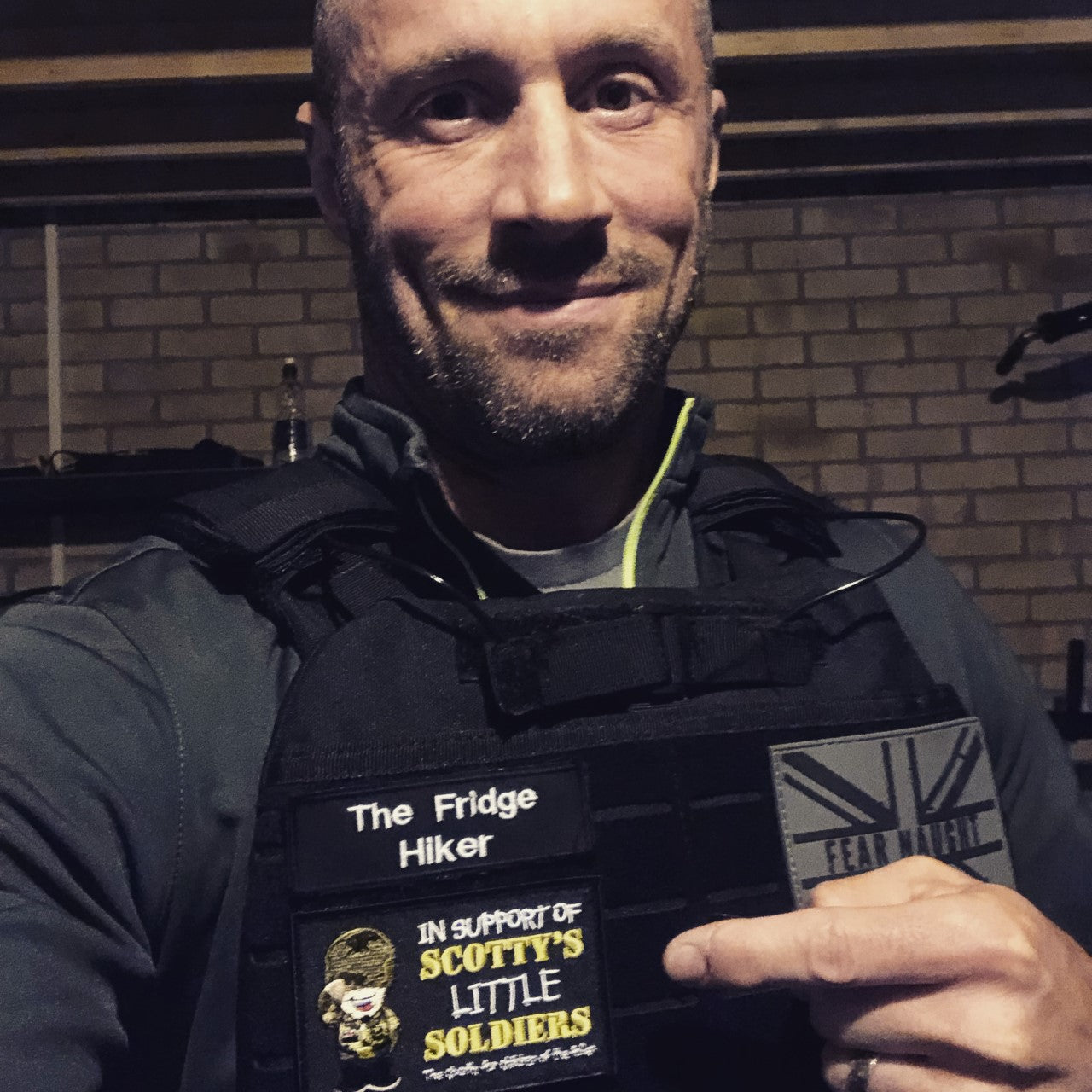 Do I keep anything in the fridge?
People are always asking if I have any beer or ice cream. During one hike in the Lake District, we kept count and over seventy people asked. I confess, on some of the hikes there may have been a beer or two tucked away, along with my lunch and a litre or two of water.
There's also my repair kit because, as you can imagine, a big metal frame against a big metal fridge covered in plastic and rubber develops squeaks every now and then. After suffering a few minutes of that sound you'll never want to hear it again.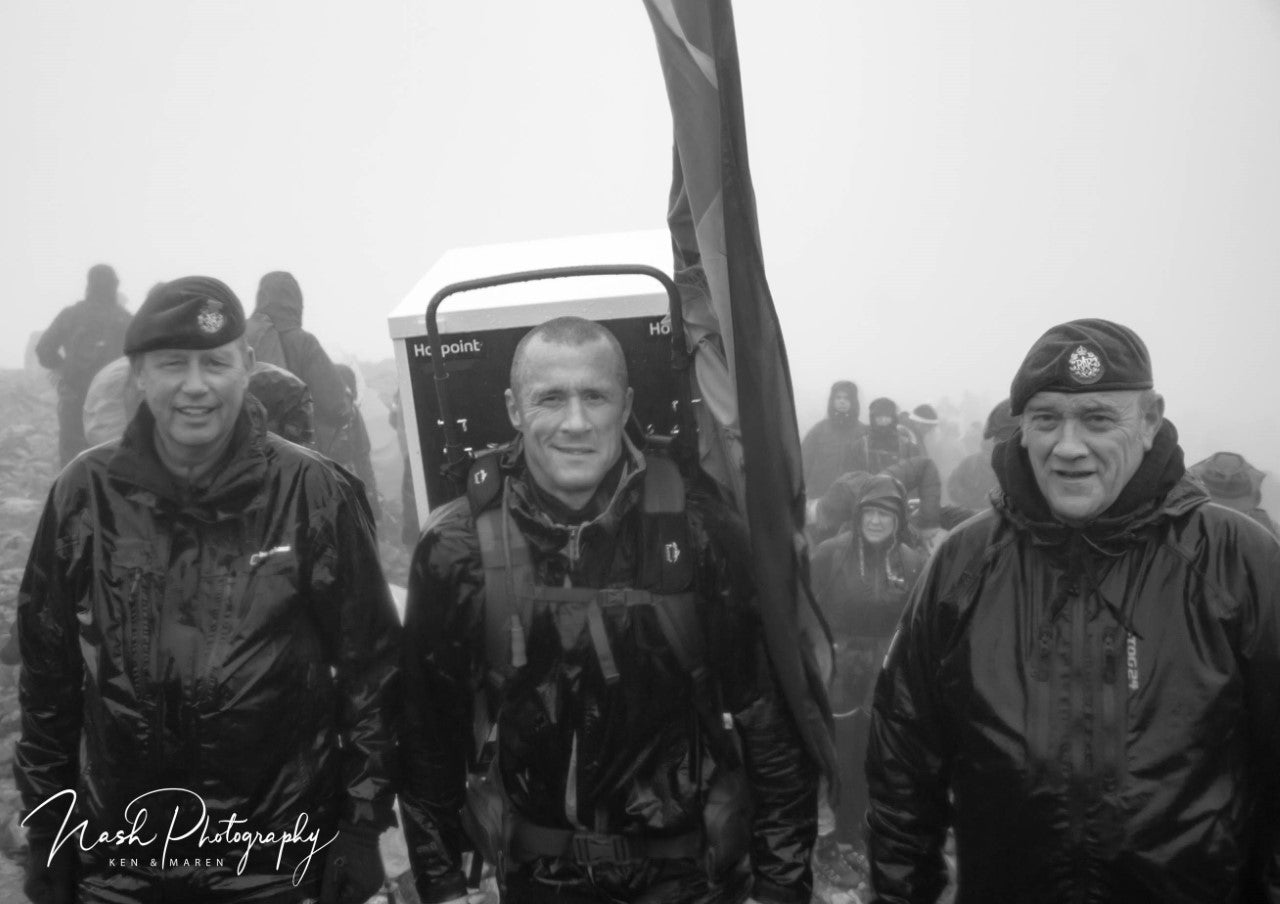 Fighting the weather
Every year, on Remembrance Sunday, there's a memorial service held on the top of Great Gable – a 3000ft mountain in the Lake District.
Around four years ago, I decided it could be a fun opportunity to put on the fridge and raise some money. When we started the climb it was all blue skies, but halfway up the weather shifted. We were hit with forty mile an hour winds, black clouds and a storm that seemed to come out of nowhere. Even people who didn't have a fridge on were getting blown around. We could see lightning chasing across the hills opposite, which makes you a bit nervous when you're carrying a big metal fridge on your back. 
During the storm, I came to a dip in the mountain known as Windy Gap. It essentially acts a wind funnel, and I actually had to get on my hands and knees and crawl along it with three people to either side of me to stop the wind throwing me all over the place. Moments like that can be daunting. 
Preparing for the worst
During those riskier moments, the best thing you can possibly do is be prepared. Do the research. Bring the right gear. For example, if you're going to get wet, bring spare socks and wear shorts, because your legs are going to dry quicker than trousers. It really is all about preparation – luckily for me, I can stick everything in the fridge.
The difficult descent
Coming down is the worst bit.As all the weight is behind you, so pushes you forwards. If the ground is particularly steep thenit's important to stay low, shuffle on your knees, keep hold of something, whatever you can do make sure you don't lose balance.It can be quite intimidating, but I just have to give myself a slap on the back and I remind myself why I'm doing it. 
Overcoming adversity
I won't deny I've gone to some dark places every now and then during a hike, particularly when it's early in the morning, I'm on my own and my body is in a lot of pain. During my first fridge hike, I had to stop at two in the morning, 19 hours and 33 miles in, as my left knee just gave out.I returned a few weeks later to finish it, but that night my body just couldn't take any more.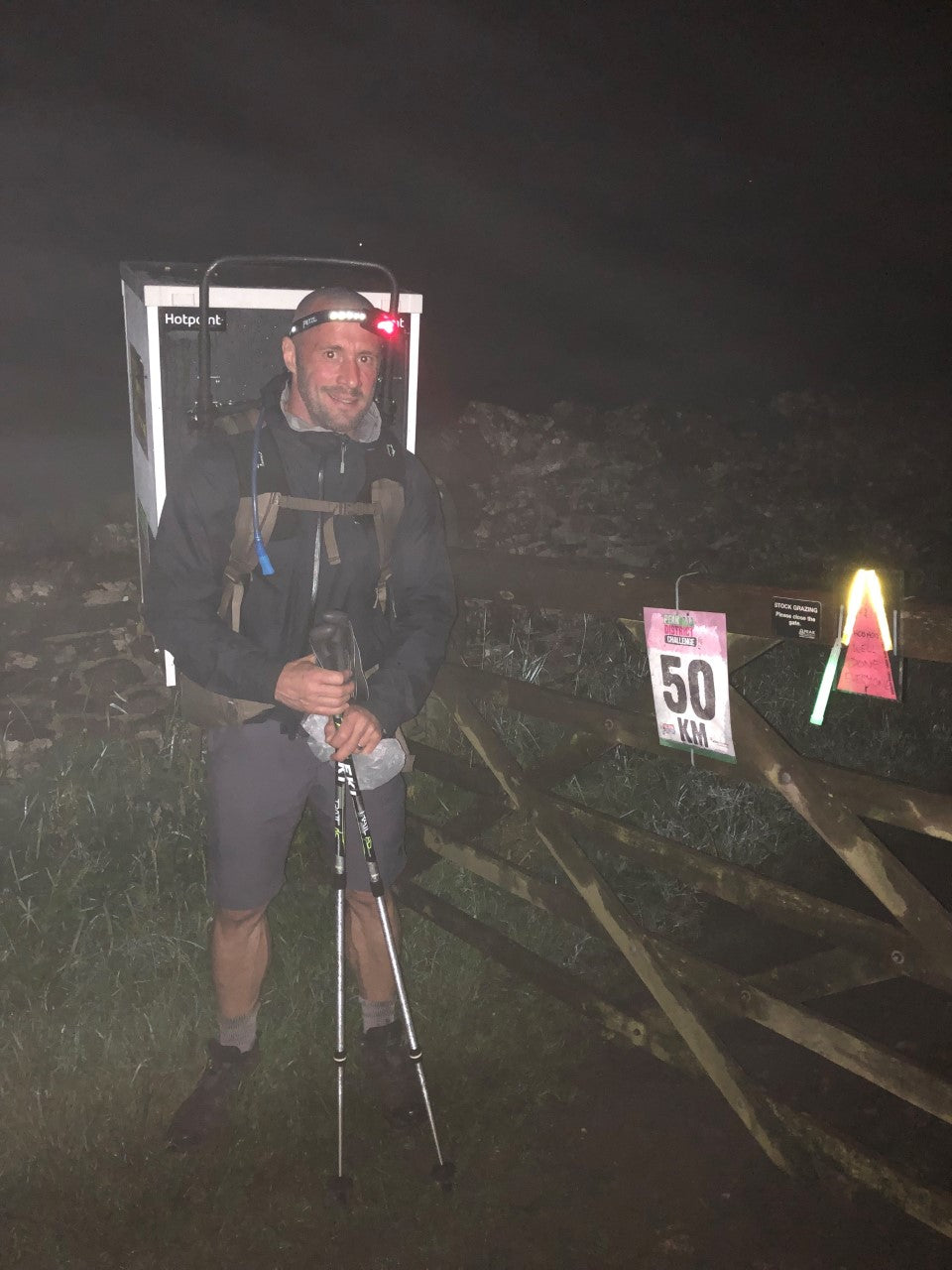 How do I train for a fridge hike?
Training for something like this is difficult. On the whole, I have a decent base level of fitness – I enjoy getting outside, being active, playing football – but obviously, doing those things doesn't prepare you for the type of muscles you're going to be using and the crazy conditions you may be facing on a fridge hike.   
In the weeks leading up to a hike, the best way to train is to simply put on the fridge and get moving. There are lots of people in my village who have seen me just going about my day with a fridge on my back – I sometimes forget it can look quite odd!
Some people find it a bit too much and will literally turn away from me, or pretend I'm not there, but thankfully there's a bunch of people who also find it really interesting. I've bumped into people who are ex-services and I've ended up chatting to them for ages, just because they saw me with the fridge on my back and wanted to know what it was all about.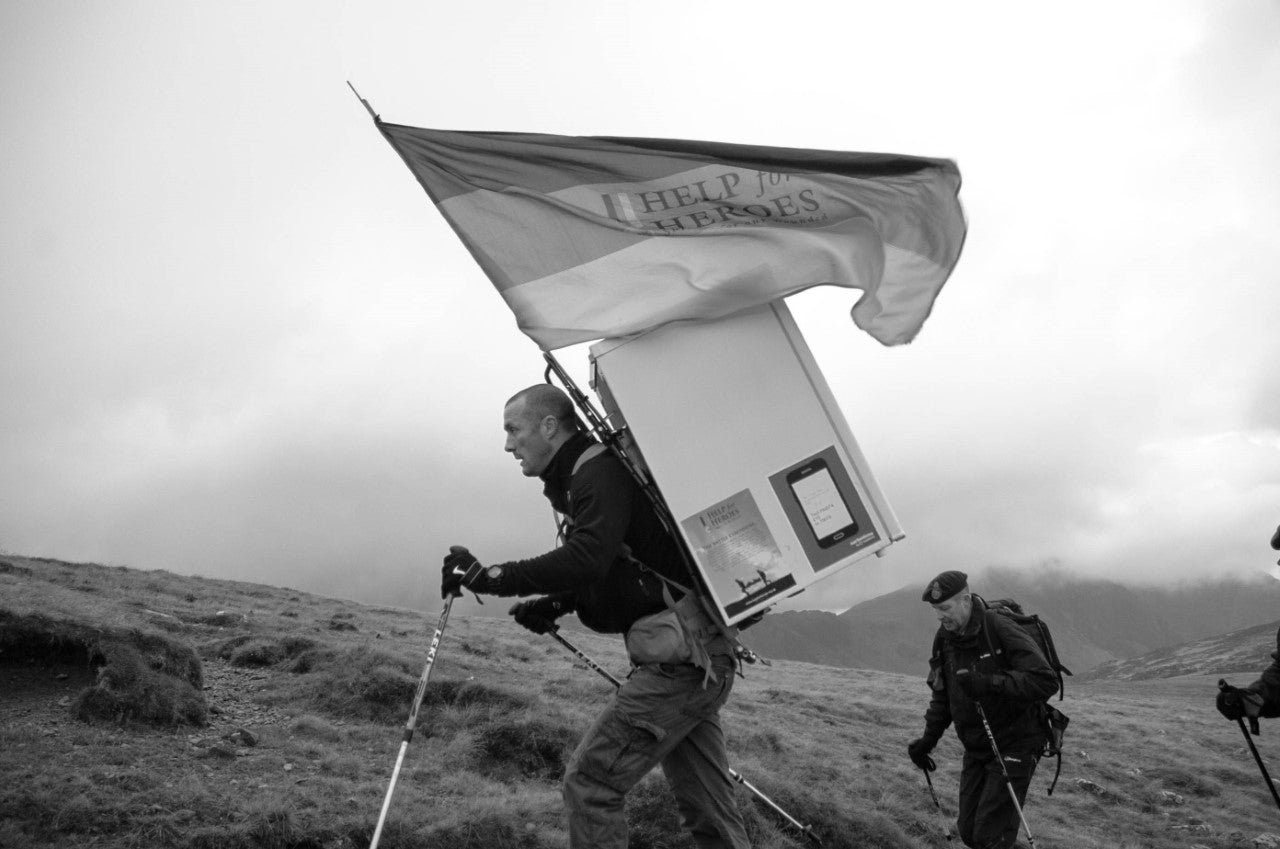 How do I keep fit as I get older? 
I'm 48 now and, as far as I can tell, not getting any younger. My body is starting to creak a bit and those aches and pains are beginning to show themselves. I had a prolapsed disc two years ago – not something I ever want to experience again – and ever since I've been very aware of the way it's affected my body.
For example, I now do back exercises much more than I did in the past, to compensate for that natural weakness I now have. My legs are the same – I don't enjoy it, but I do spin classes now. I've been putting together a home gym in my garage over the last few years as I'm determined to keep a level of fitness, but as I'm getting older and my daughter is growing up, going to the gym five days a week isn't as simple as it used to be. This is my way of finding a healthy middle-ground. 
How do I make a fundraiser successful?
I chose to carry a fridge on my back for three reasons.  
1) It reflects what our Armed Forces go through every day 
2) It's eye-catching 
3) Everyone knows or can imagine how much a fridge weighs 
I don't claim to be any kind of marketing expert, but I know doing something that stands out in some way is so important to a successful fundraiser. Even if it's just a small twist, it's going to make you pop in some way. For me, that twist came in the shape of a fridge. 
Shortly after coming up with the idea, I emailed a bunch of fridge manufactures in the UK, explaining my idea and asking if they could send me a fridge which I could use to raise money for military charities. I only got one response, but that response was a yes. 
From there, I set about establishing myself online. One of my first tweets about a fundraiser I had planned was interacted with 12,000 times, which blew my mind. People were talking. Even if only a fraction of those 12,000 of people donate, it's still spreading awareness of the cause that you're supporting.  
Seeing the impact
Having those kinds of ideas isn't unusual – you see people running the London Marathon in dinosaur costumes all the time – but the reason you always notice them is because they still stand out. 
During a fridge hike up Scafell Pike, people were literally reaching into their pockets and donating to me, even though they were raising money as well. Along the way they'd share their stories with me – why they were fundraising and the people they had lost. It was a very touching moment that brought a lot of people together, and it all came from the fact I had a fridge on my back.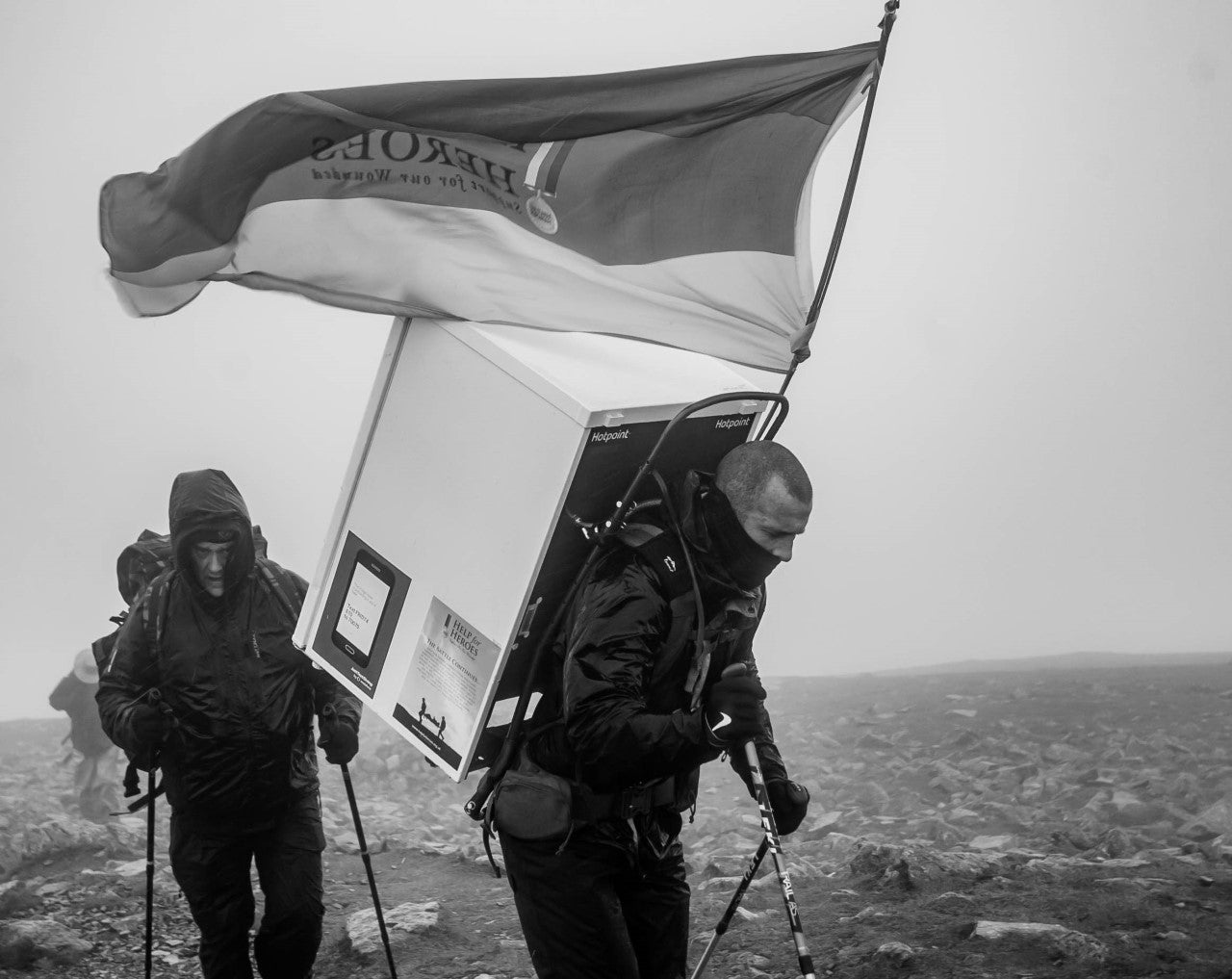 Why support military charities like Scotty's Little Soldiers?
After being inspired by the Invictus Games, my goal had always been to support military charities and give back to our Armed Forces. I became aware of Scotty's Little Soldiers in 2018 and it stuck with me, as up to that point I had never come across a military charity specifically for bereaved children. A bunch of the kids sent me messages to read during my charity hike for Scotty's, and as I read them I remember choking up a little bit. I couldn't quite finish reading them. It was very humbling and I was really touched they'd taken the time out to write those words for me. I still have them to this day, kept safe in my office.
Fear Naught is owned and operated by Scotty's Little Soldiers and 100% of our profits allow us to support bereaved military children and young people around the UK through an effective combination of practical, emotional and educational support. Scotty's support young people who have experienced the death of a parent who served in the British Armed Forces. We offer a range of services designed to connect our members and create a community of bereaved military children built around mutual support.